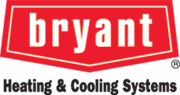 Bryant HVAC Equipment & Parts
Since 1904, Bryant has been committed to providing products designed to not only create comfortable living conditions but to provide solutions that are both energy efficient and user-friendly
Bryant HVAC parts and products continue to evolve and change as their skilled team of innovators and designers work to provide the latest and best in home comfort technology. Bryant HVAC equipment is designed with quality, reliability and responsiveness in mind; Bryant distributors are prepared to offer the best possible solutions to every HVAC need or dilemma.
Bryant HVAC Parts & Equipment Available at CE
Air Conditioner
Never be uncomfortable at home again, even if the temperature is setting records outside. Bryant air conditioners come in a wide range of styles and functionality to provide a truly customized experience for every home. Built to last, these efficient and capable machines provide the ultimate in customized comfort and energy savings. Bryant air conditioning units feature:
13-20+ SEER, depending on the model
Single or two stage operation
Quiet operation, as low as 50 decibels
Energy Star Seal (select models)
Ductless Systems
Take the guesswork out of creating a ductless system for the home. Getting cool air to rooms without ducts used to take a messy and unsightly window unit; Bryant's unique take on the ductless system makes it easy to stay comfortable without sacrificing the look of a room. Ductless systems by Bryant offer an affordable way to cool the home and boost efficiency; for customers with older homes, a ductless system is the ideal cooling solution for every "off the system" room. As a Bryant distributor, CE ductless systems include:
Up to 30.5 SEER, depending on the model chosen
Up to 10.3 HSPF, depending on the model chosen
Quiet operation, some models offer as low as 20 dba
Affordable, efficient way to cool rooms not covered by the home's existing ductwork
Floor, wall and ceiling installation options provide a custom solution for every home
Heating Options
100 years of experience yields plenty of innovation, and Bryant excels at providing heating solutions to suit every need. From traditional heat pumps and gas furnaces to innovative geothermal heating systems, Bryant delivers when the temperatures drop. Key Bryant heating options include:
Packaged Products
Bryant packaged products make it easy to tailor a solution for any home. Designed to work together and provide year round comfort, a packaged product provides affordable, efficient options and can work in virtually any space.
Indoor Air Quality
Bryant takes comfort seriously, and while the right temperature and humidity is a good start, it is tough to be truly comfortable at home if the air quality is poor. From air purifiers to dehumidifiers and UV lamps, CE is your Bryant HVAC Distributor who can ensure optimal indoor air quality for every home.
Choose Bryant with Confidence
Bryant products are built to last and to withstand years of use in all kinds of weather, but they also offer a 10-year parts warranty on most items. While every piece is different, optional labor warranties are available as well. CE is your Bryant distributer that can help you learn more about your specific options for each item you choose.
For the ultimate in home comfort and long lasting durability, choose Bryant to comfort your home. CE is proud to stock a full line of Bryant HVAC products and to offer everything you need for durable and reliable home comfort. Contact us to learn more about the enduring appeal of Bryant and what this long lasting and reliable brand can do for you.