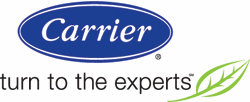 Carrier HVAC Equipment & Parts
Carrier HVAC Equipment: Residential and Commercial
When Willis Carrier invented the modern indoor air conditioner in 1902, he set out to change the world. Instead of the constant challenge of keeping a home or business cooled, people could finally be a comfortable temperature. For over a century, Carrier has been the leader in the HVAC industry. With their longstanding history of proven success behind them, Carrier brings ongoing innovation to their HVAC equipment, where they continue to set the bar in durability, ease of use, and efficiency.
Carrier HVAC Equipment Offered by CE
As your trusted Carrier distributor, we are proud to offer a full lineup of Carrier air conditioners, ductless systems, heating options, and air quality solutions. Additionally, we keep a vast assortment of Carrier parts in stock.
Carrier Air Conditioners
With a Carrier air conditioner in a home or business, your client will never have to worry about the outdoor temperatures again. Carrier air conditioners are available with varying capabilities to effectively cool any size space you are working with. The features found in Carrier air conditioners are unmatched in the HVAC industry, and the dependable machines are also Energy Star rated to save your client money on their electric bills.
Carrier Ductless Systems
When a home doesn't have an existing duct system, or there are space limitations, a Carrier ductless system is what you need to complete the job. The ductless systems are not only aesthetically pleasing, they can be installed for much less money and in much less time than a traditional HVAC system. Additionally, Carrier ductless systems operate at extremely low sound levels.
Carrier Heating
While Carrier may have invented the air conditioner, they are just as exceptional at designing heating systems. At CE, we carry a full selection of Carrier heat pumps that work with super efficiency to keep your client's home or workplace comfortable even when the outdoor temperatures are frigid.
Indoor Air Quality
When your client needs to improve their air quality, you can rely on the selection of Carrier air purifiers, UV lamps, humidifiers, air cleaners, and ventilators. With optimal efficiency, Carrier will come to the rescue to keep your client's family or staff breathing in high-quality air.
CE is Your Carrier Distributor
No matter what Carrier HVAC equipment you are in search of, you can count on CE to have the items you need, when you need them. We are the largest Carrier distributor in the USA, with a vast network of retail locations across the country. With a real-time inventory via our Part Finder, you can make sure we have the Carrier parts or equipment you need before heading in to one of our retail stores. Or you can always order online and have the Carrier parts shipped direct. Whatever your Carrier HVAC needs are, we are here to help you give your clients the service they need so you can maintain a stellar reputation.